Treacle Tart Recipe
I've never made a treacle tart before, but it is delicious! My favorite part was the mix of the lemon and the banana that I added to the recipe. Mmmmm!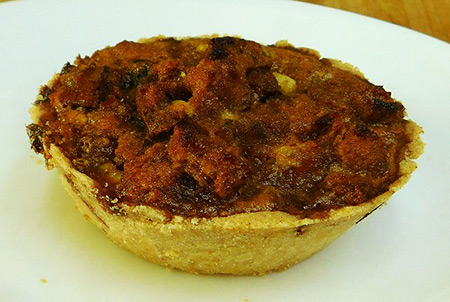 Organic, gluten-free, dairy-free treacle tart
Step 1: Make the golden syrup
Ingredients
1-1/4 cups water
4 cups organic brown sugar
2 tbsp organic lemon juice
Combine the water and sugar in a saucepan and stir to combine. Bring to a boil, stirring to prevent burning until the sugar is dissolved. Once boiling, gently stir in the lemon juice. Reduce the heat to low and gently simmer, uncovered, without stirring for 40-60 minutes until it reaches 240-250 degrees F.
Step 2: Make the pie crust
Ingredients
1-3/4 cup organic brown rice flour
1 tsp xanthan gum
1/2 tsp salt
1/2 cup + 2 tbsp margarine
1/3 cup ice cold water
Mix the flour, xanthan gum, and salt together. Add the margarine. Mix until it resembles coarse crumbs. Add the water a little at a time until it holds together when pressed. Form the dough into a ball and flatten into a 1-inch thick disk. Wrap in plastic wrap and refrigerate for at least 30 minutes.
Roll out the dough. Place the crust into the tart pan and pierce it multiples times with a fork. Line the pastry crust with parchment paper and fill it with dried beans. Bake for 10-15 minutes at 375 degrees. Remove the beans and parchment paper and continue to bake for another 5-10 minutes.
Step 3: Make the treacle tarts
Ingredients:
1-1/4 cup golden syrup
grated zest and juice of one lemon
1 squirt lime juice
1 tsp cinnamon
1-1/4 cup gluten-free bread
3 Tbsp almond milk
1 egg
1 slice banana
Place the golden syrup, lemon zest and lemon juice, and lime juice in a saucepan. Heat until hot and runny, then stir in breadcrumbs and cinnamon. Turn off the heat and let the mixture sit for 5 minutes. Lightly beat the egg, banana and almond milk together with a fork. Pour the mixture into the saucepan and stir quickly to combine. Pour the hot mixture into the pie crust. Bake for 20-25 minutes at 375 degrees.