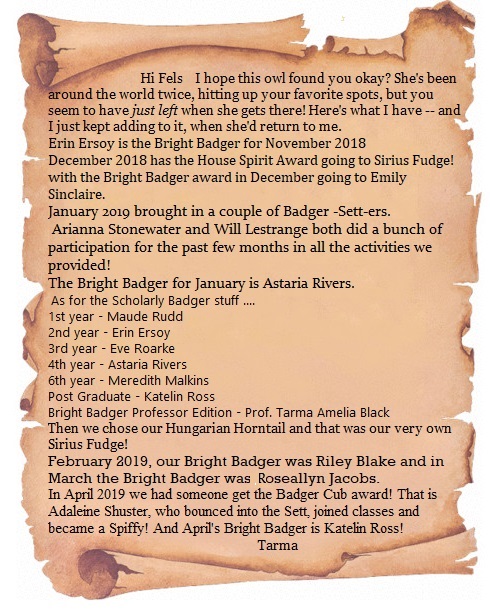 for those who cannot access the graphic.
November 2018:
Bright Badger for November is -- 268 points earned by Erin Ersoy
December 2018 we have these:
HSA - Sirius Fudge
Bright Badger for December - 338 points earned by Emily Sinclaire
January 2019:
Badger -Sett-er to Arianna Stonewater and Will Lestrange -- who had a comprehensive amount of participation for the past few months in all the activities we provided!
Bright Badger for January is ---- Astaria Rivers with an amazing 1,153 points plopped into her folder
Scholarly Badger stuff --
1st year - Maude Rudd
2nd year - Erin Ersoy
3rd year - Eve Roarke
4th year - Astaria Rivers
6th year - Meredith Malkins
Post Graduate - Katelin Ross
Bright Badger Professor Edition - Prof. Tarma Amelia Black
for Fall 2018 Term
Hungarian Horntail - Sirius Fudge
February 2019:
Bright Badger - Riley Blake with 160 points
March 2019:
Bright Badger - Roseallyn Jacobs with 180 points
April 2019
Adaleine Shuster - Badger Cub
Bright Badger - Katelin Ross with 293 points
Those who wish to know what these awards are, please Read this.