Supporting Cast - Week One - Discussion
This week our focus for 'Supporting Cast' characters is on the Professors.
Of course, the main cast of Professors includes Professors Dumbledore, McGonagall and Snape but there are so many other people, without whom the books would not be what they are.
The Professors are important for the actual school - Hogwarts. Dumbledore, McGonagall and Snape are portrayed throughout all of the books, and yet, there are so many more teachers there at Hogwarts!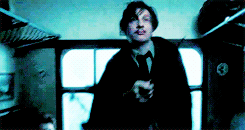 For our discussion this week - quite simply -- who amongst those Professors discussed in the Harry Potter books, was your favorite supporting character Professor? Why is this person your favorite?
Tell us about your favorite 'supporting character'! Write at least 100 words and earn 10 Diamonds! You are welcome to write more, in response to what others say, and earn an additional 10 Diamonds if your post is at least 100 words long.
You have until October 10th to post. You earn a bonus of 3 Diamonds, though, if you post one or both within a week of me posting this!